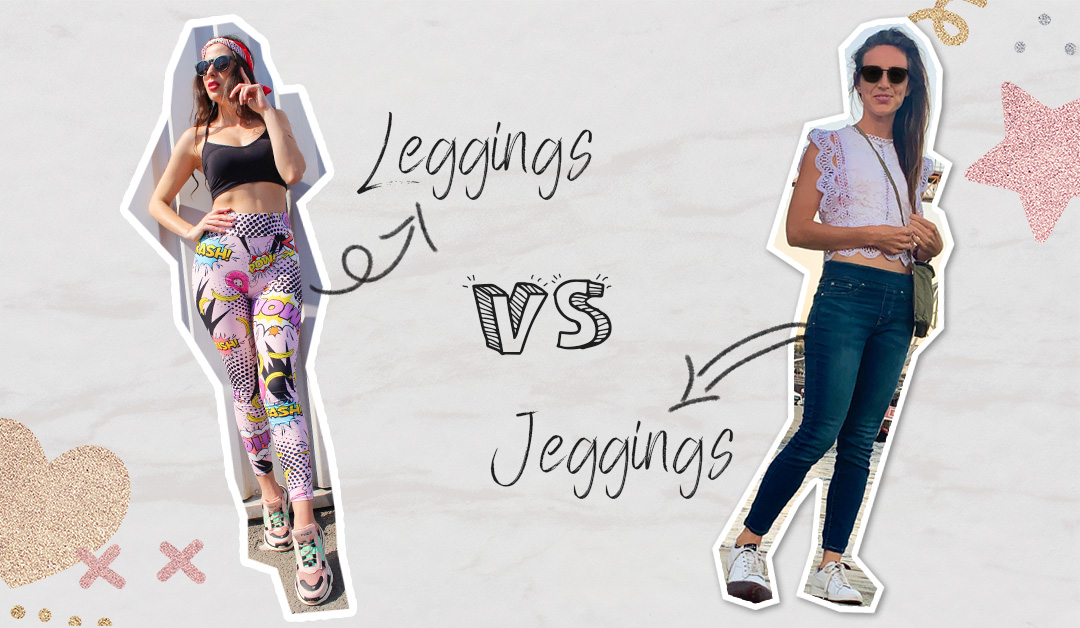 With winter season on the edge, you have got to make tough choices for comfortable, warmth and fashionable bottoms to protect your legs from shivering. Leggings or jeggings might be the perfect solutions for you! But considering their cuts, material and styling, let's find out every inch of detail about legging vs jegging in this article…
Primer
Leggings and jeggings are always in-demand and popular kinds of bottoms, pants, or lower clothing pieces. With a variety of cuts, styling and material variation, the fashionistas around the world look for either options to instantly achieve a glamorous look and chic attire get-up in no time.
Both the leg wears have comfortable yet stylish Stitching and share a very nonchalant elegance. However, leggings and jeggings share different chattels in their ways. Only a true fashion-maniac knows where, when and how to pull off both options to give an imperative of on-point pairing up or styling with shirts or dresses.
You can buy trendy and fashionable leggings and other ladies garments at CUBIDUPI
TABLE OF CONTENT
1. The Climax of Leggings VS Jeggings Story!
2. Leggings VS Jeggings
2.1. Leggings
2.1.1. Practical Usage of Leggings
2.1.2. Pros OF Leggings
2.1.3. Cons OF Leggings
2.2. Jeggings
2.2.1. Practical Usage of Jeggings
2.2.2. Pros OF Jeggings
2.2.3. Cons OF Jeggings
3. The Features of Leggings VS Jeggings
3.1. Similarities
3.1.1. Coziness
3.1.2. Swift and Convenient
3.1.3. Shape
3.2. Differences
3.2.1. Material
3.2.2. Stitching and Cuts
3.3.3. Styling
4. Final Verdict
4.1. Win-Win points for Jeggings
4.2. Win-Win points for Leggings
5. Wrapping it up!
1. The Climax of Leggings VS Jeggings Story!
The first season of leggings was launched in the fashion world and to the common public in the 1980s. Leggings were a breakthrough fashion statement then and ought to be a blazing item in the legwear options. Once launched in markets, their popularity and demand grew every passing year moreover.
Though leggings have enjoyed the perks of popularity but its cycle of time in the fashion world for a popular clothing piece to face off some resistance too, that's where jeggings strike the fashion scene!
Jeggings were launched in the market back in 2010 for rapid, practical, and quick fashion solutions. The legwear was launched as an alternative to denim, which provided illusion of skinny jeans with pockets and zipper style stitching.
2. Leggings VS Jeggings
Legging and jegging are popular and the most demanded legwear around the world among ladies. Leggings are made of soft fabric material, which is mostly skin tight and covers the legs appropriately. Whereas, jeggings are made of a bit rough fabric material to give the illusion of denim or skinny jeans.
Let's find out more about leggings vs jeggings in this article and have a detailed look about their material, usage, versatility and practicality in real life!
2.1. Leggings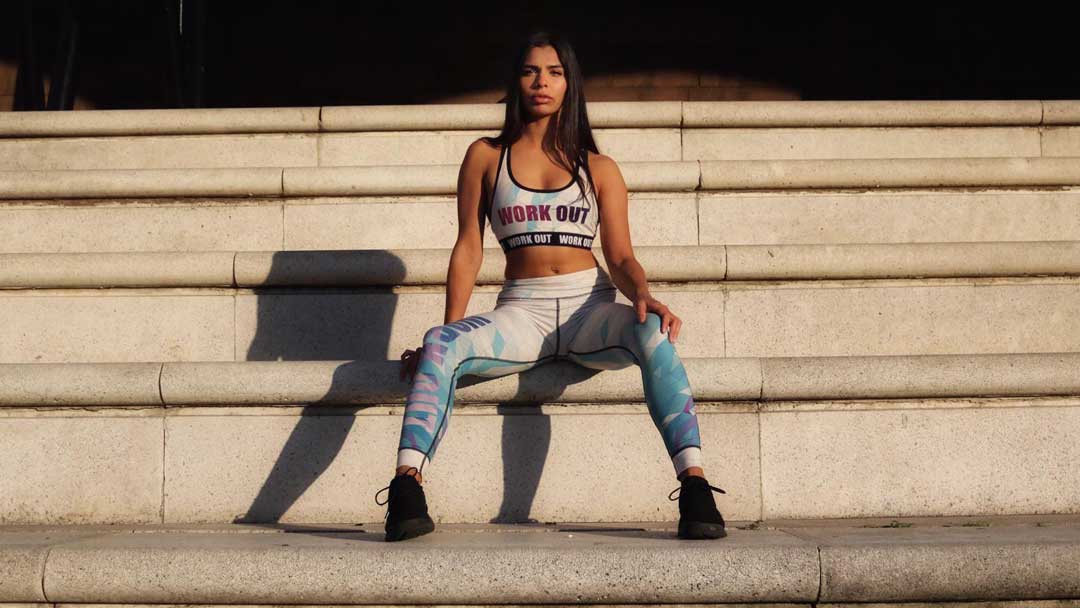 Leggings are skin tight-fitted, one-piece trousers which are stretchable in nature to provide comfort and complete coverage for the legs. They are usually made of soft fabric like cotton to twig on the legs entirely and provide utter feels of comfort, style, elegance, and trendiness.
The legwear is also available in various fabric options like cotton infused with spandex, which makes the leggings way more stretchable to suit your needs as per any circumstances or fashion need. Apart from that, you may opt for light material leggings as well to make your body lighter and ensure sufficient air ventilation to radiate the body heat outside easily inn summer or spring seasons.
2.1.1. Practical Usage of Leggings
At Gym: athletes, exercise freaks love to wear leggings at the gym. The clothing piece serves perfect purpose of stretching and flexibility while exercising because of its light-fabric material and stitching style. Also, it is easily washable in washing machines and goes with the gym looks perfectly.
At Occasions: Be it your regular office day or any special occasion, leggings are the best-suited option to pair up with any short or long dress or shirts even. Leggings come in a wide range of colors, different material, print, and plain one's variety. It keeps you chic and comfortable at the same time.
2.1.2. Pros OF Leggings
Cover the legs comfortably

Perfect for every or any occasion

Goes beautifully when styling or pairing combos

Easily available at affordable prices

Give a sleek-shaped fitted look to your legs

Never goes out of fashion!
2.1.3. Cons OF Leggings
Never always an option for certain body types

Might lose elasticity after years
2.2. Jeggings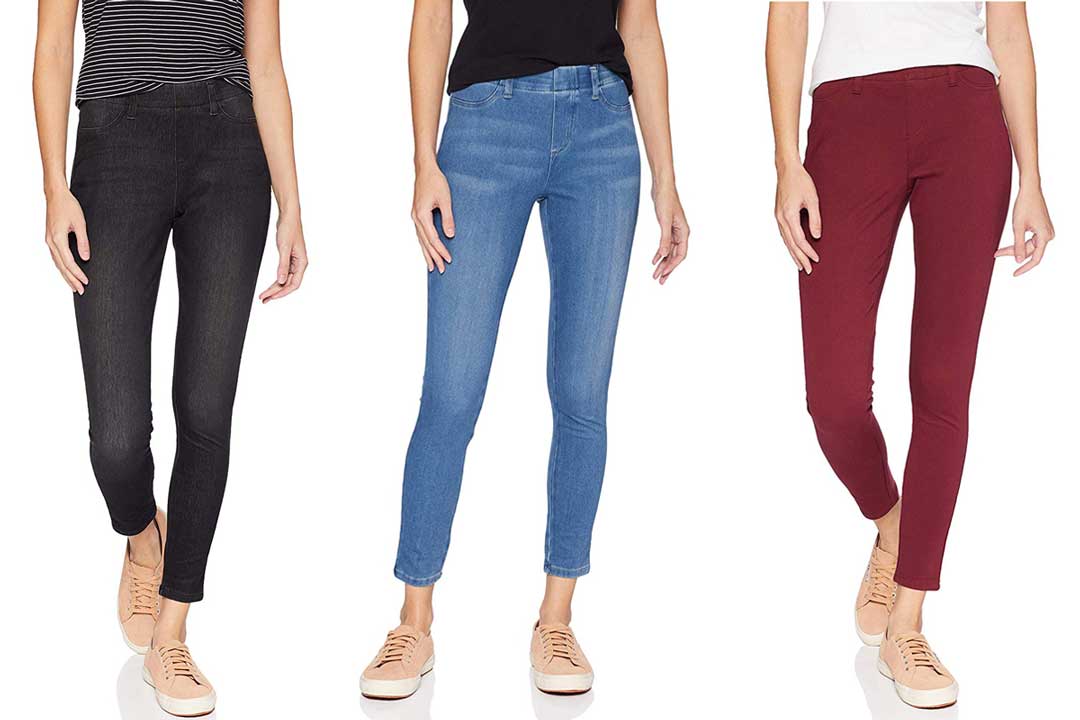 Jeggings are a bit rough-fabric yet skin fitted trousers with stitching and styling alike denim jeans. They are designed this way to easily put on and give illusion of denim jeans. Usually, jeggings are made of knit polyester infused with spandex fabric, which provides them a denim-fabric look and stretching ability to pull on and off easily with comfort.
. Jeggings are soft, stretchable and a quick alternative to denim jeans, which looks the same as jeans, yet it is more comfortable in nature. Jeggings are a bit rough texture yet elasticize enough to pair up with shirts and blazers. It might also have cuts, pockets, threads and stones embellishment to give a spot-on look.
2.2.1. Practical Usage of Jeggings
At Parties and Occasions: Jeggings in darker shades of blackish, bluish, or maroons are the perfect ones to pair with a wide range of shirts, dresses, blazers, etc. They are soft fabric and stretchable yet provide utmost denim-look, which makes them perfect for casual parties, meet-ups, friends hangout, universities, and so on.
At Fashion Events: Jegging comes in a variety of options, including embellishments, Stitching, pockets, and fabric qualities. However, black jeggings are the classic ones that remain in fashion forever. Thus, you can wear them on special occasions, fashion events and glamourous parties, etc. They don't wrinkle easily, which is a plus point, so that you don't have to waste time for ironing!
2.2.2. Pros of Jeggings
Stretchable fabric and comfortable than jeans

Impersonate denim jeans

Easy to pull on and off

Compliments with T-shirts, tops and blazers

Stylish Jeans alike Stitching
2.2.3. Cons of Jeggings
Might be a little uncomfortable for specific body types

Limited color options

Not recommended for high-end events
3. The Features of Leggings VS Jeggings
Girls, especially teenagers these days, must have a single or two pairs of jeggings or leggings to dress up for daily routines. As said earlier, they are more likely interchangeable yet have their own qualities and styling. It lets the girls to decide and draw a line for pairing up which legwear with what variety as per different occasions. Let's find out a bit more about their similarities and differences:
3.1. Similarities
3.1.1. Coziness
Leggings and Jeggings are both launched as a comfortable alternative of jeans and trousers. The comfortable fabric cotton infused spandex or spandex makes them comfortable and stretchable enough to fit every body type. Both the leg wears do not have tight or squeezing waistlines, waistline belts pinching on the hips and off-course flexibility issue, unlike denim.
3.1.2. Swift and Convenient
Leggings and Jeggings share an uncanny slip-on quality, which saves time and provides utmost convenience to get in. Unlike jeans in which you have to jump up and down to get in, they are more comfortable, easy to wear and stretchable, which in return makes you more flexible to move.
3.1.3. Shape
Both the leggings and jeggings are the same in fabric nature and look. Both seamlessly adjust and fit onto your legs, giving skin-tight looks. Also, both come in different colors, yet their only difference is the styling and Stitching, which makes them different from one another.
3.2.Differences
3.2.1. Material
Jeggings differentiate from leggings on the basis of fabric and stitching only. Jegging is a hybrid product of materials cotton and spandex which are used to manufacture jeans and leggings. There comes another variety of faux jeggings which are made of stretchable fabric alike colorful leggings having the texture of jeans only.
On the other hand, Leggings are made of spandex usually, which gives them elasticity and stretching ability to skin fit any body type. They are sometimes made with materials like cotton, wool, polyester, and nylon infused with spandex as per weather or customer's need.
3.2.2. Stitching and Cuts
Usually, jeggings are stylized and cut as per the stitching lines of denim jeans. They differ from leggings for having stylings like front pockets, side stitching, fancy patterns, stone embellishments, cuts, and zippers. They may also have back pockets, which are the only ones in practical and functional use.
Whereas Leggings are a more simple and skin-fitted form of trousers. They do not facilitate any fancy cuts, styling, or Stitching. Usually, leggings do not have pockets or any detailing except for simple Stitching to perfectly fit your legs.
3.2.3. Styling
Jeggings come in a wide range of zippers, pockets, cuts, and embellishment varieties. They provide various fashionable looks which one is unable to achieve in both jeans and leggings. Jeggings come in certain types of a color range to offer casual chic looks to suit your preferences.
Leggings are style-wise simpler but come in a wide variety of plain and colorful prints, subtle and bright colors, and cotton to faux leather variety. It enables you to enjoy infinite options of styling and personalizing.
4. Final Verdict
Jeggings and leggings have been in trend for so long that every girl desires them to have in their wardrobe. It is undoubtedly challenging to put hands-on and select only one of them when it comes to styling and comfort. However, if you are confused, here are some points or ways to find out which might suit you the best:
4.1. Win-Win points for Jeggings
Jeggings gives you the most perks of enjoying chic and classic looks of wearing skinny denim.

It is a hassle-free and swift way of putting on in no time to save yourself from getting late at parties, classes, or hangouts.

Exceptional plus points to give you a slim and smart look with having no issues of waist numbers.

Makes your styling struggle free with a variety of designing options.

Have pockets, zippers, and side stitching, giving you benefit from wearing short shirts and tops.
4.2. Win-Win points for Leggings
Leggings come in a variety of floral prints and plain options to go with every dress

Leggings are more comfortable and stretchable to fit on any body type.

You may pair them up easily with long shirts to enjoy versatility in clothing.

Leggings provide you more elegance compared to jeggings offering a chicer look.
5. Wrapping it up!
Now that we have come to wrap-up with the major points for both legging vs jegging, we can surely bet it is difficult to place your hands on only one of these. The good news is, both the leg wears are very affordable and easily available on CUBIDUPI. Thus, take your cards out and order both the leggings and jeggings instantly as none can beat their practical usage, comfort, and quick styling assistance!