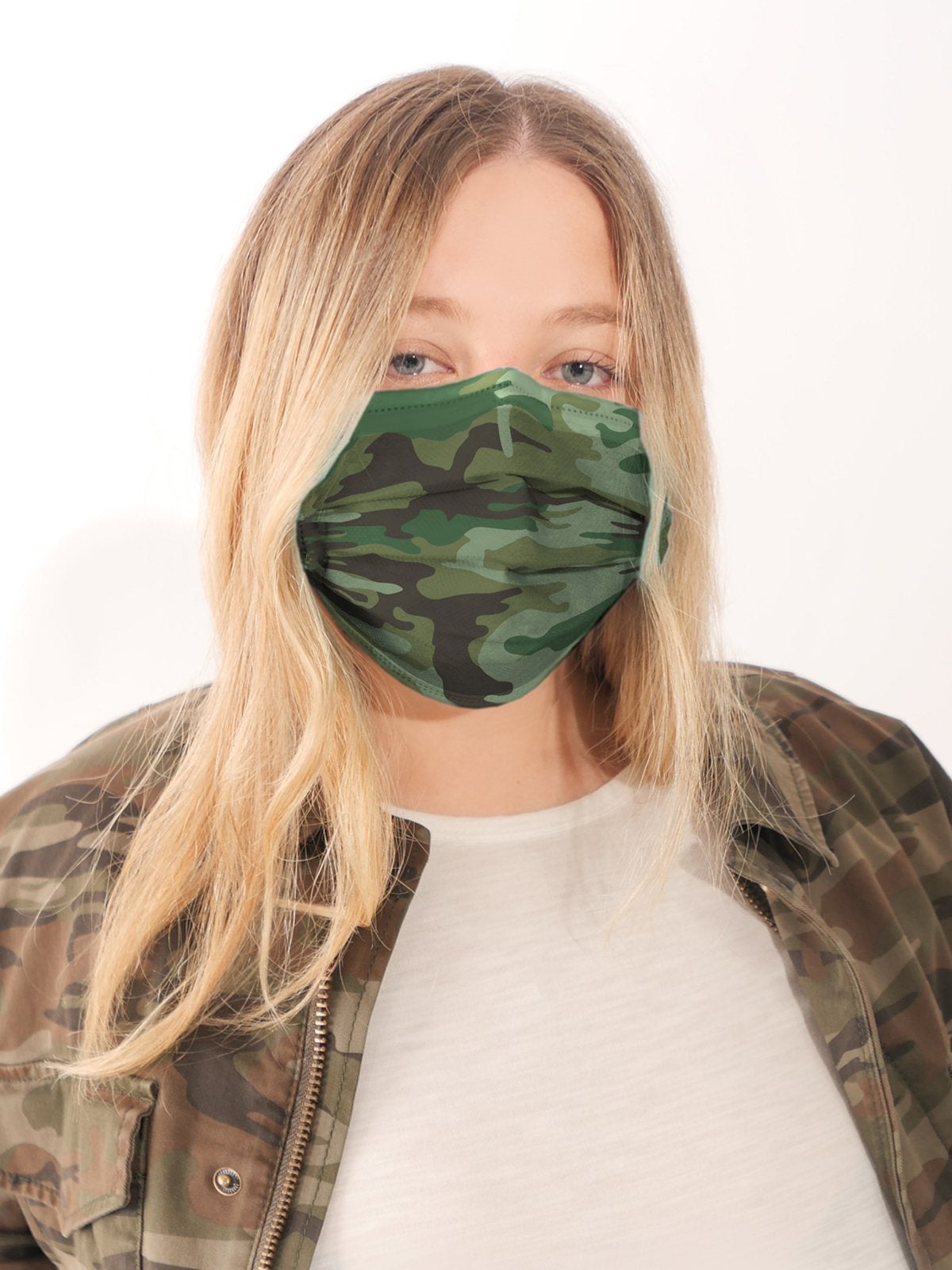 We hardly thought before about face masks will be an essential or regular part of our daily lives. Isn't it? But, time and nature taught us everything! Most of the earth is still fighting with the pandemic COVID-19.
It is only an emergency that forced us all to wear face masks while going outside or while being in public. It is a must to have wear, and many of us should have had adopted years before.
The main reason is that the atmosphere in many regions of the world is full of air pollution or harmful contaminants. One or the other day, it will surely be going to harm us, but we never care since it is not an emergency, or so fast responsive.
We generally have a habit of following Newton's third law, i.e., we react only when we saw any action, either good or bad. The main motto here is to make you realize how important the face masks are in our lives, even with or without Corona!
Of course, the trend of wearing face wears has started. Soon a day will come when companies will launch their Fancy face masks. They might come with variety in their designs, colors, fabric, and even more to imagine. But as per now, no such option is there!
Really? If you think this is true then you need to think again, many of you might have already realized the power of DIY! You can make some fancy face masks in the comfort of your home, with ease that too without spending any single penny! How? This post will guide you with everything about the same that you must know before you try to make one.
1. Cloth Masks: Is it worth it?
Masks made of cloth are easy to wash, sanitize, or clean compared to the delicate piece of fabric generally found in cheap clinical masks!
Now, the first approach to make a face mask is to choose the right cloth! You cannot pick any fabric material to make masks! It is because if you have selected wrong, then after some time, it will be of no use or make you feel irritated in using it.
So, the best and recommended choice is to use Leggings and get the required job done. By the way, you can feel free to use them comfortably whenever you need to go out and impress others with your fashion sense and art!
But, it does not mean that you do not need any guidance in preparing a mask. If it cannot be done right, it is of no use or will not help you avoid harmful contaminants entering your body.
Hence, you need to place a filter material in between two layers of the leggings fabric to ensure better protection that is required. You can use quilter's tightly woven cotton or piece of flannel amid the layers of the mask that does the main job of filtering the air you breathe in.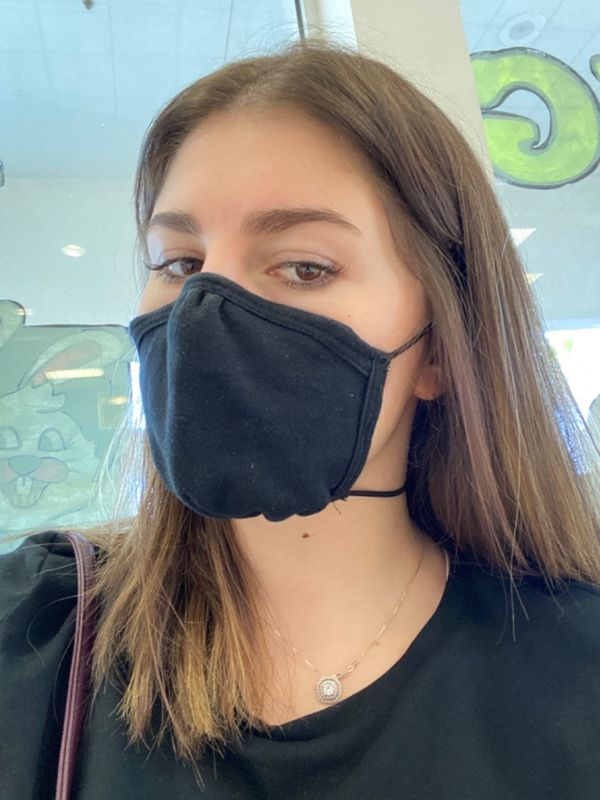 2. Why Leggings?
Leggings are the best aspirants to make masks since its fabric is opaque, stretchy, and soft. The best part of using leggings to make Face masks is that you do not need to be skilled in sewing. So, it can be done by almost everyone by only following some steps to prepare it.
Leggings today are typical to be found in every house wardrobes since they are no more gym or yoga pants now since they are highly in use as daily wears. They must be comfortable! It is possible because of the fabric used to build them and must have enough elasticity and durability to withstand the needs of a user with a tight fit.
You do not need to worry about whether it is valid as per authorities or not! These kinds of masks are already approved by the CDC (Centers for Disease Control and Prevention); anyone can use them when out of homes. Here are some types of leggings commonly available;
a) Nylon
It comes with many advantages for its user wearing leggings made of its fabric blend. The list includes easy to care, hard to wrinkle, lightweight and durable. Sometimes leggings made of this fabric will shrink, so one needs to take proper care while washing and drying.
b) Wool
These types of leggings are designed for people who generally need to face cold environments. They can help its user to feel warmth due to trapped air in them. You can also find some leggings in the market made of a blend of knit and wool. So a good option is to use a mix of cotton and spandex.
Another issue is the fact that many people complain about its discomfort after wearing it for long hours. It can happen when the fabric is wet, and now since it can hold about 25 times water in it as per its weight, it can make anyone feel unbreathable.
c) Cotton
A fabric that is common in outfits is also of many advantages in leggings. They are comfortable in use for long hours, durable, breathable, and reliable. But two limitations make it not the first choice of legging lovers. First is that the fabric can't be stretchable and might lose its shape with time.
d) Nylon-Spandex
It is a blend of flattering & stretchy spandex as well as lightweight & durable nylon. These can wick away the sweat during a workout, feel cozy and soft in casual use like the one made of cotton. The hybrid fabric is to match both the style and performance of the modern-day requirements of leggings.
e) Spandex
It is the most common fabric in all types of leggings, at least in a few percentages. Some people called it as elastane or Lycra. The material tends to offer a flattering fit and is stretchy. This kind of leggings might feel but uncomfortable, especially on initial days of use, because they can tightly stick on the skin.
f) Polyester
Leggings made of this fabric are in current trends as active wears due to its hydrophobic property. They are both sweat-wicking and water resistance. At the same time, they can make smells, so it is best to have on with antimicrobial treatment or made of polyester blend.
You can choose one depending on your preference and use it! But as a suggestion, you can try to get leggings that will be a blend of polyester (sweat-wicking fabric) and spandex (stretching fabric). Also, prefer one that should be of dark in color, to avoid someone seeing sweat on it.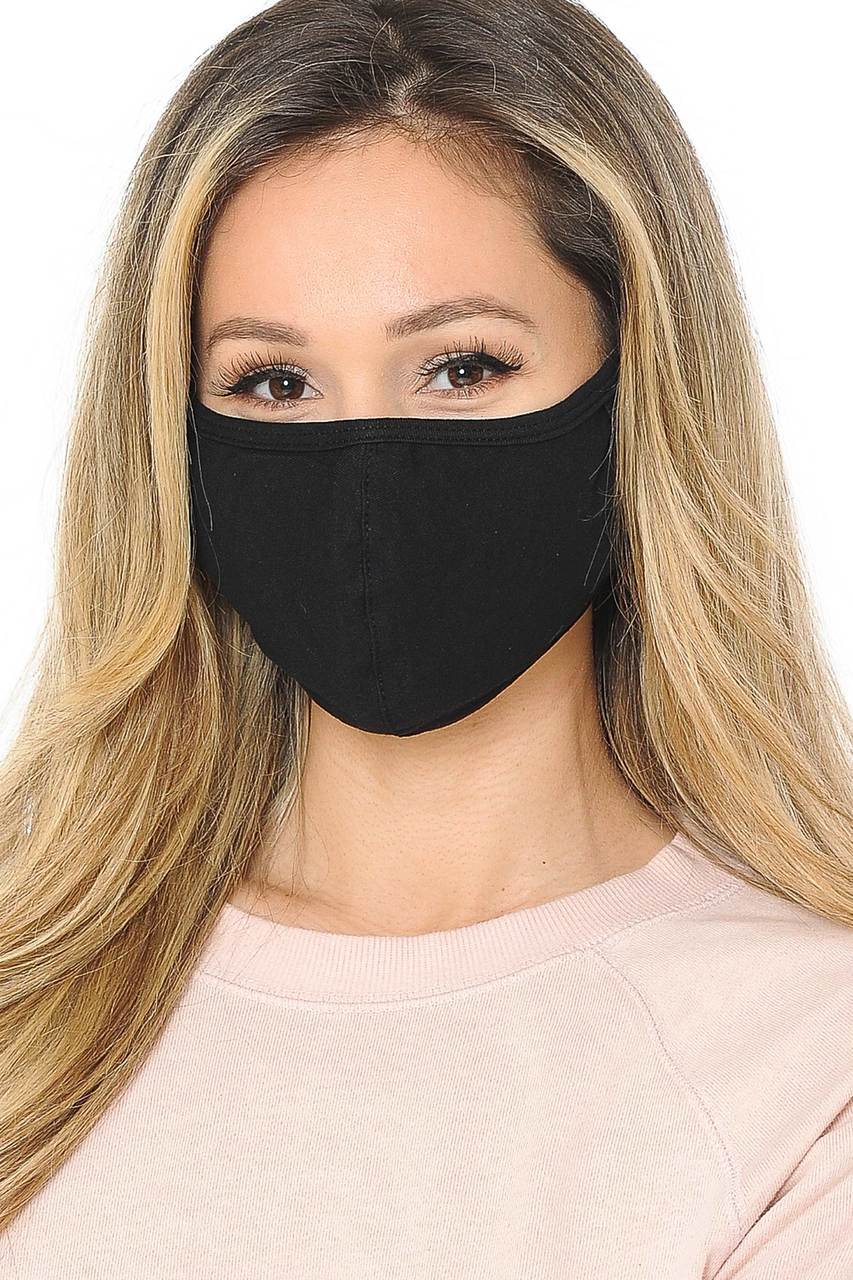 3. What should you check in the Fabric of Leggings to make an Effective Mask?
You might be in doubt that leggings are of different types, so whether any of them can be used to make face masks. A quick answer is yes! But, if you want to have the best, then prefer to have opaque tights that are easy to handle and come with a thicker finish. Here are some suggestions;
1) It must be thick and dense enough so that even after a stretch, no one can see through it.
2) Fabric must be stretchable on all four sides so that it cannot only well-fit on both the ears tightly but also cover your nose to chin well.
3) The cloth must tend to withstand any climate. It should not get too hot to wear on sunny days nor cold enough under lower temperatures to make you feel sick.
4) You definitely want a fabric to lasts for a long time ahead, something that so not sag or stretch out permanently after some wears. In this case, leggings made of elastane, spandex, or Lycra will do the purpose.
There are many types of fabrics useful in making leggings. It comprises Heavy Polyester Spandex, Pine Crest Strata Knit, and Cotton-spandex. It also includes Dryline Wicking Spandex, Tech Fleece 100, and Double brushed polyester.
4. How to make the Masks at Home?
There are many ways to make DIY face masks at home, but most of them are time taking or include some complex procedures. So, to make it quick and more comfortable, here is a favorable recommendation, i.e., no-sew ear loop mask that you can try anytime!
Method-1: Using Printable Pattern
1) Download the free printable pattern and cut the borders of the pattern using a scissor.
2) Now use leggings or stretchy knit fabric. You can cut the pieces either from one leg or both and can make more than one masks by managing the available cloth.
3) Double up the fabric so that there are two attached layers, one on the other, by measuring its size according to the borders of the pattern. You need to make two pieces like this.
4) Cut the marked position or slits on the rounded section of the pieces of fabric.
5) Open the cloth layers and use a filter to place in the middle to make a sandwich among two different cut pieces of fabric.
6) Place your finger on the rounded cut and stretch it as per your need. This portion will be placed on your ears to hold it properly on your face.
7) Now to ensure a tight and comfortable fit to cover your nose and mouth properly try to wear it by giving a twist of side loops (upside down) over your ears.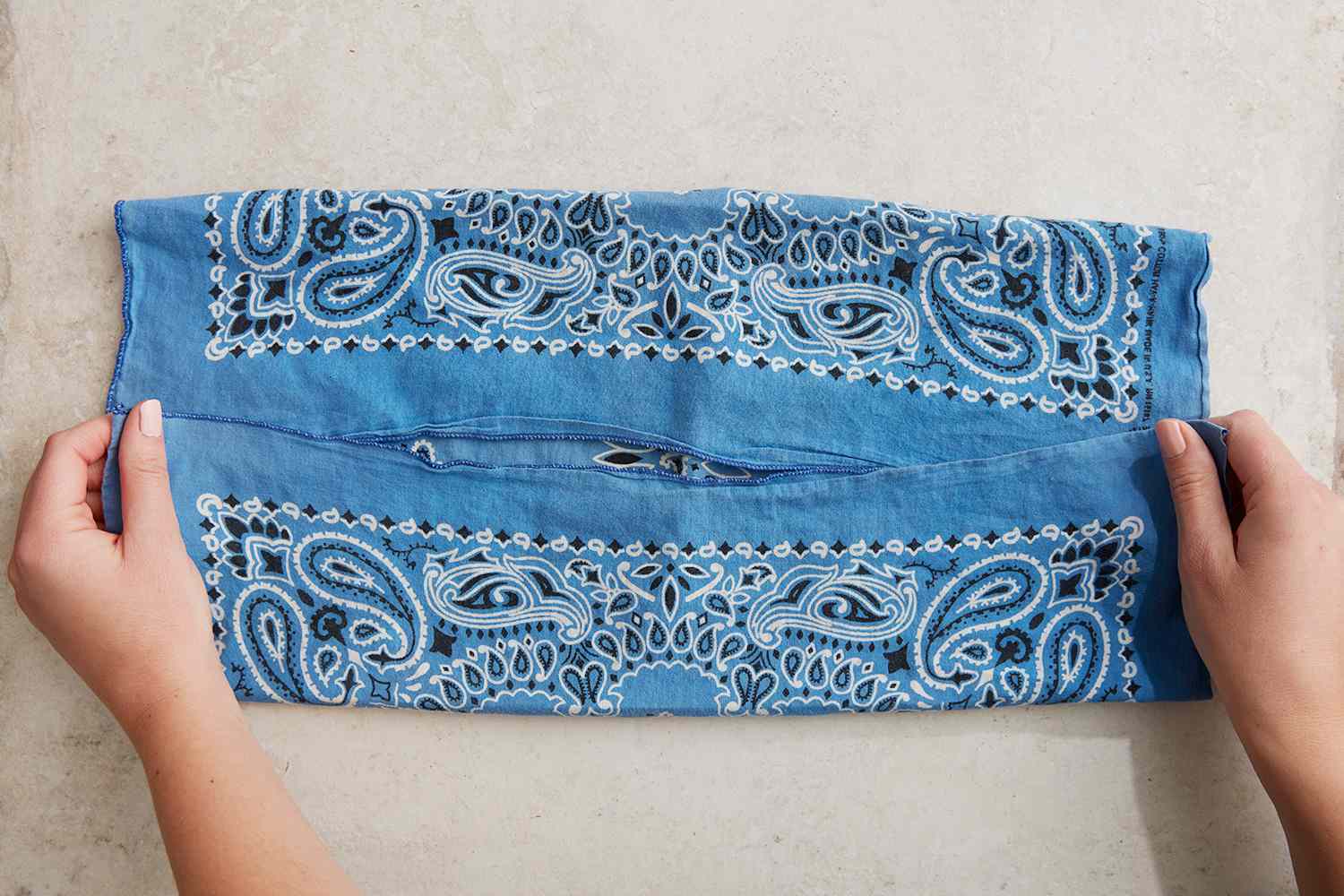 Method-2: Without Pattern
1) If you do not like to download and use any printable pattern, then cut down the leg portion of your legging towards the bottom of approx. half to one foot in length.
2) Cut the sewed bottom end.
3) Next is to cut a few portions from one layer towards both the ends of the cloth, probably of one inch in length. You can also make semicircles on the edges of the inside piece of one layer of the tube.
4) Now in the second left layer, make a fold so that inside edge will face outwards. Make a vertical cut or slits for ear loops in between the outer exposed semi-circles from about half inches from the end.
5) Put your fingers in these two holes, stretch and lift it over your ears.
6) You can put a filter in between the tube. It can be anything like a coffee filter or kitchen roll. You can use anything else that is available, or you would like to have in it that can work as an air filter in the breathing area.
7) Also, you can experiment with different sizes of cloth to get different fits as per user requirements.
5. Cloth/Legging Mask vs. Medical Mask: What's the Difference?
Government authorities have released guidelines to wear face masks for all age groups, either it is an elder or a child of 2 years old. The main aim is to protect ourselves from the harmful aerosols or contaminated droplets expelled from any other infected guy!
1) Today hospitals of many countries are facing shortages of medical-grade masks like N95. Also, for a healthy person, it is not required to use such masks. After all, they are made especially for someone who treats or takes care of a sick person or someone who is immunocompromised. So, in this case, you can use cloth masks without feeling any guilt!
2) Over the ear caps formed in cloth, masks are much more durable than elastics generally found in a standard medical mask.
3) The primary purpose of using a face mask is to cover your nose and mouth so that even if you accidentally touch your face, you will not be exposed to the germs. Medical masks might fit loose on your face, and you might be at high risk!
4) No doubt, there is no match of the offered level of protection by medical mask in comparison to the one made of any cloth. But, you can use a useful filter to fill that gap.
5) Fabric masks are generally made using two layers with a filter in between. It ensures better protection than only one layer, mostly found in general masks.
If you find any fabric masks in stores, they might be having chainmail overlays or made with glittery fabric covers. So this type of masks can attract viral particles, so you need to sanitize them regularly to be cautious and secure!
6. Bottom Line
As we all know, today's need is to always have proper face masks with us. Most of us prefer to go with quality products and even use medically acclaimed masks used by medical practitioners! But, if you are a fashionista, then definitely you have noticed one thing. It is the fact that there is not much variety of masks available either in offline or online stores.
An added advantage of preparing your face mask at home is that you can make countless pieces using different colors or textures. All you can do this using your old clothes that might be of no use! So in this manner, you will utilize your unused scrap of cloths for some essential daily use purpose. Does it seem appealing? Why not try it out!