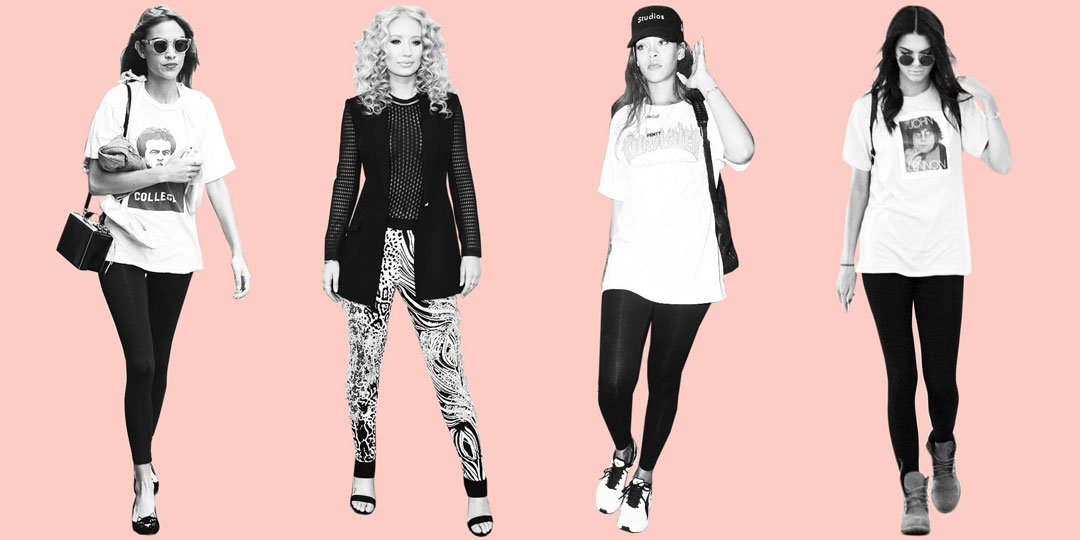 If you think you can wear leggings only at home or for the gym, you might be wrong. Think again. Fashion icons, stars such as Gigi Hadid(international model), Selena Gomez(American Singer and model), Kylie Jenner(designer and model), and have proven that leggings can make an admirable alternative to pants and jeans. All the things you need to know are how to style them perfectly. You can wear these bottoms according to your choice and comfort level. You can look at your inspirational personalities and favorite star for styling. Because a lot of people follow them as a fashion icon. We have prepared a guide for you through which you can rock with leggings from street to bunch and even night out. These tips are enough to complete your look like a star with legging you'll be wearing everywhere.
Celebs like Olivia Culpo(Fashion influencer), Hailey Baldwin(American actress and model), and Sofia Richie(American model and fashion designer) love these leggings pants for their liquid-like sheen and breezy mesh panels.
Some celebrities style of wearing leggings
1. Selena Gomez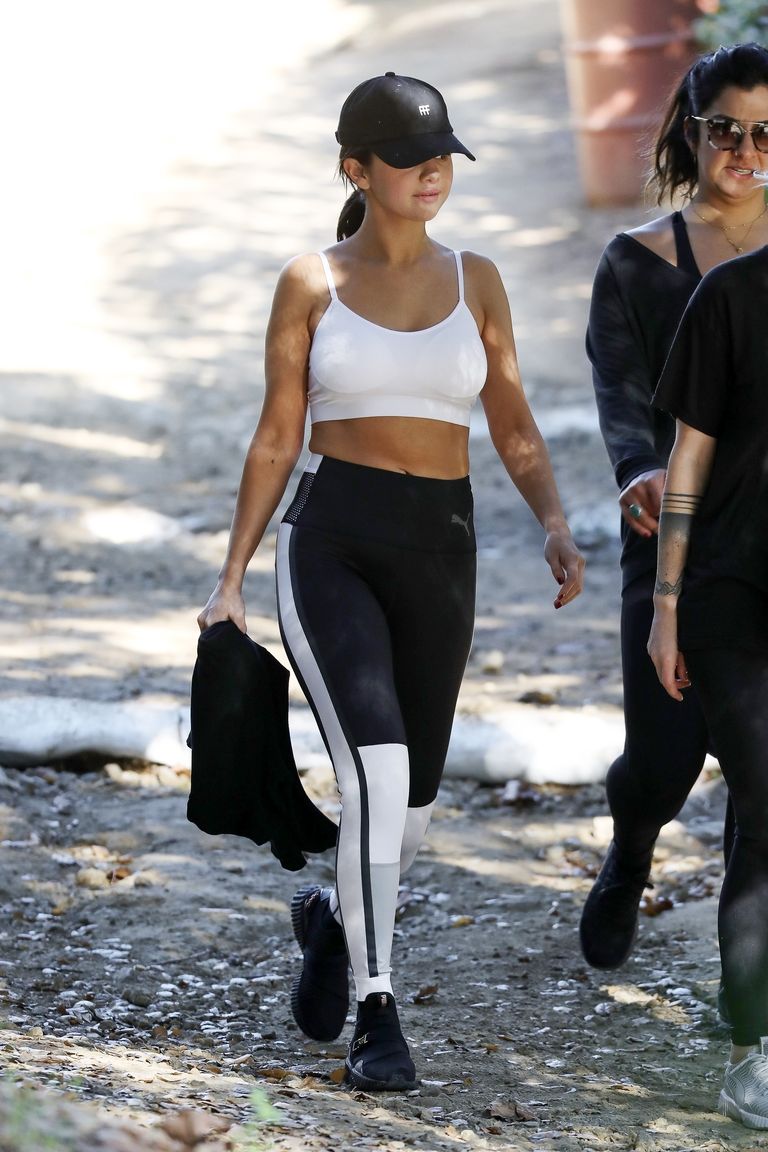 Selena Gomez is a famous American Singer and model. Her style is one for the It-girl books. Whether she's touring, walking along the red carpet, or making a casual trip through New York, Selena Gomez has proven her style is always ahead of the curve. She wears black band leggings with cropped top during her trip to Italy. She loved her outfit, and this style is famous nowadays. 100% breathable stuff and perfect for your outdoor gathering, and workout. You can pair it with cropped blacktop or hoodie. Its trending strips are trending in fashion nowadays.
2.Martha Hunt
Martha Hunt is an American model and actress used wear strips legging with army printed oversized camo jacket and plain shirt she paired it with long booty to complete winter look. She was looking stunning in her cute legging outfit. She also wore Camo leggings by pairing them with knee-high boots and a belted blazer. Martha hunt leggings are perfect match to complete your athletic and casual look you can pair with sneakers of high boots.
3.Taylor Swift
Taylor swift is a very famous singer, and her dressing style is an inspiration. She has millions of followers in the world. She uses to wear legging even in her casual routine she was spotted in marble color wearing legging with joggers and casual sneaker. She wears and support high waisted and printed legging and love to pair them with high boots and oversized jackets. She was spotted in rainbow funky leggings. Suitable for yoga, sports, fitness and daily carnival.
4. Khloe Kardashian's
She is an American modal and socialist. If you're the type who likes to wear black from head to toe, here's the ultimate inspiration: Khloe Kardashian's leggings and matching jacket are ringed discretely with the triple striping and topped. This type of leggings complete your travel and hiking look. Breathable and casual best for night out.
5. Gigi Hadid style of wearing leggings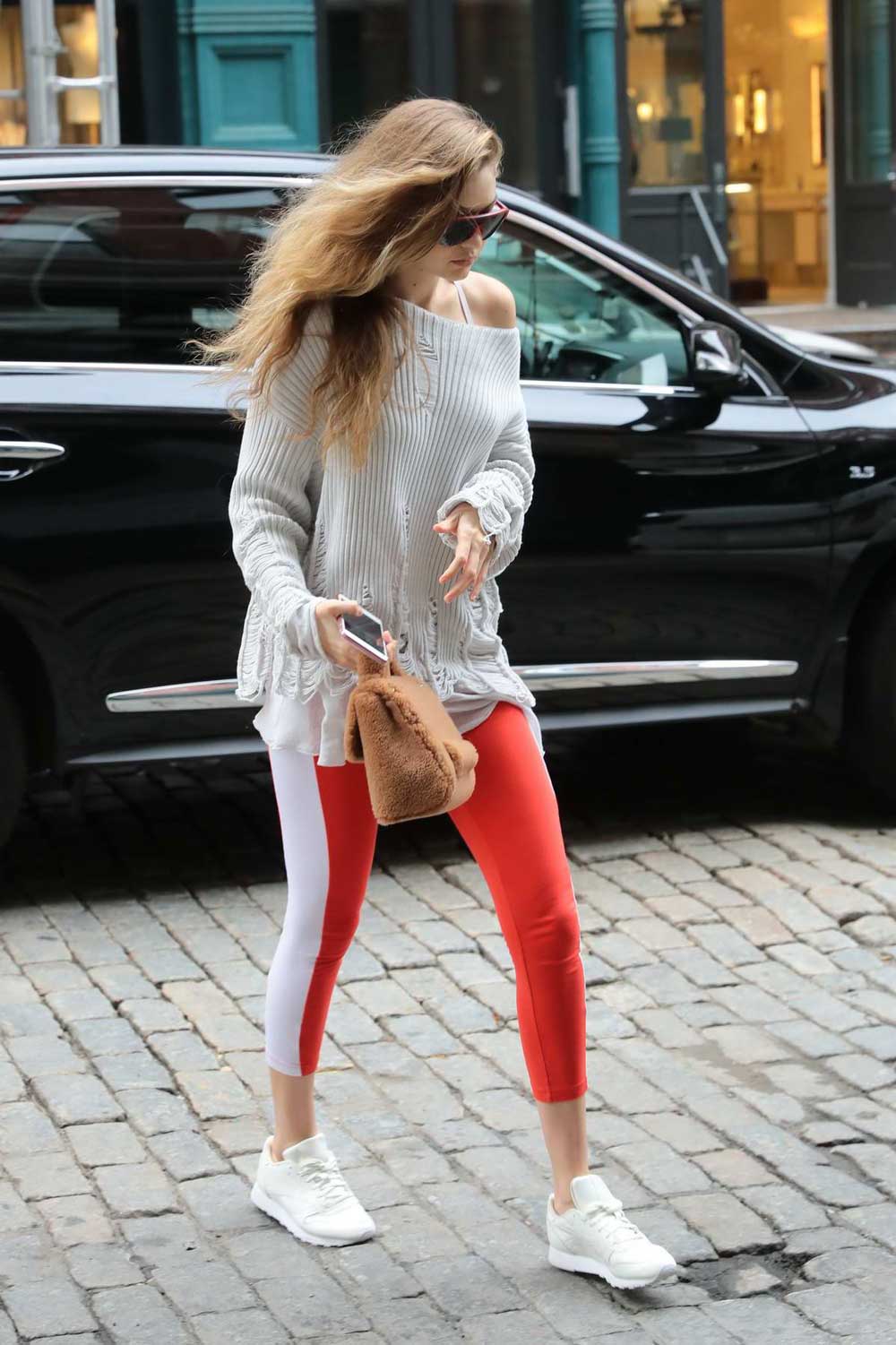 Gigi Hadid is an international model and sponsored by many brands. She always looks at fashion trends. She was spotted wearing funky long leggings low-key graphic tee and solid. A pointy pair of black booties elongates the legs and lends some edge. She recommends funky style leggings likes rainbow and striped leggings.
6. Victoria Beakham
She is a fashion designer as well as a singer. She supported funky and plain printed leggings as an outfit and designed a lot of leggings with a variety of colors and patterns. She loves to wear tiger printed, floral printed leggy and leather legging on during a date or party. This leggy has Close-fitting leg opening and Perfect for all event, dance practice and fitness workout.
7. Elle Fanning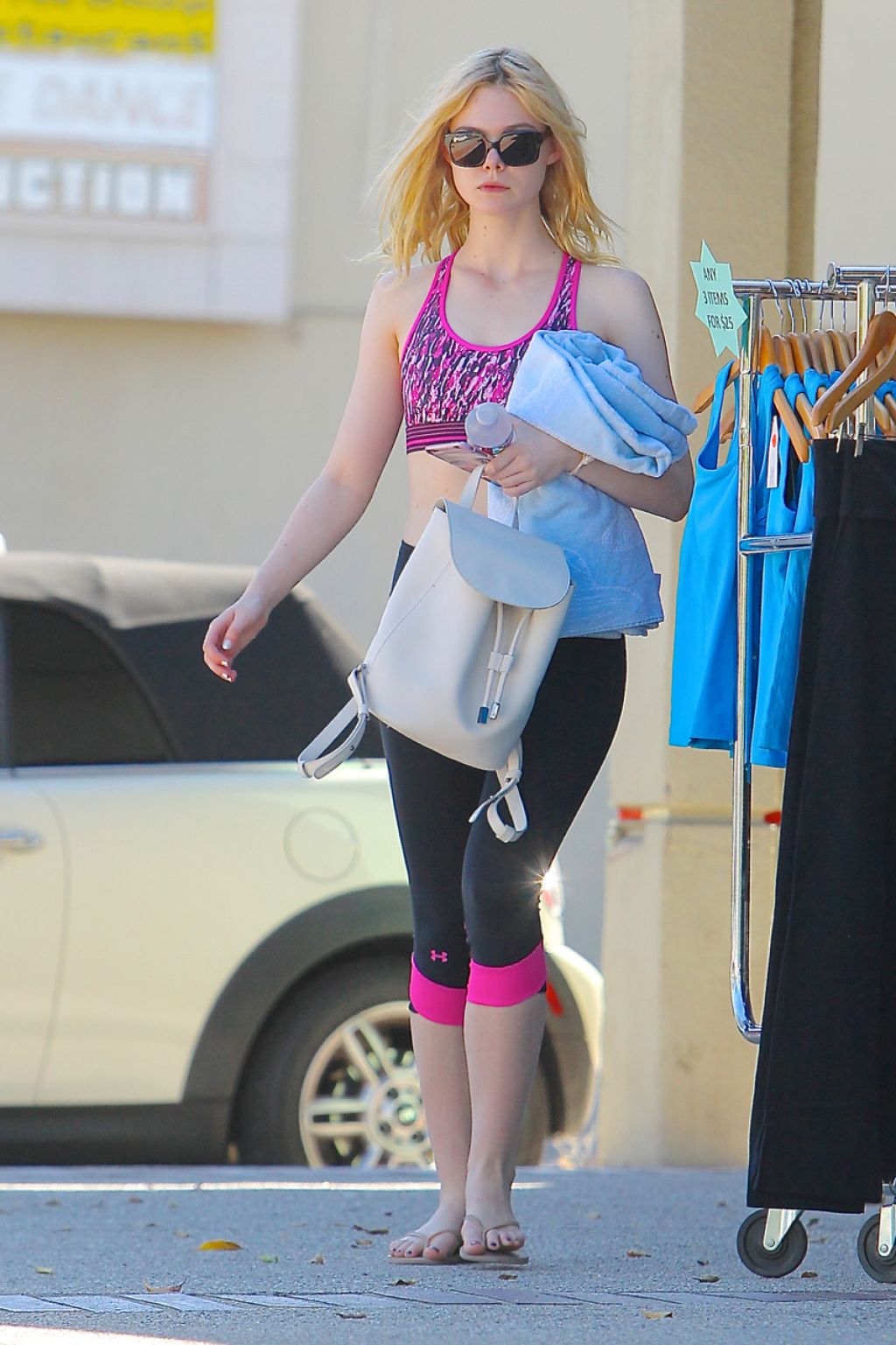 Elle Fanning is an actress and youngest model. She chose a retro-tinged, cropped pair, a celeb favorite known for '70s-inflected takes on activewear that feel so fresh. Kylie Jenner is also a fan. The multicolor striped detailing is a fun twist that adds some cheer to a basic black pair. Elle was spotted in capri leggings during summer season.
8. Christine Diane Teigen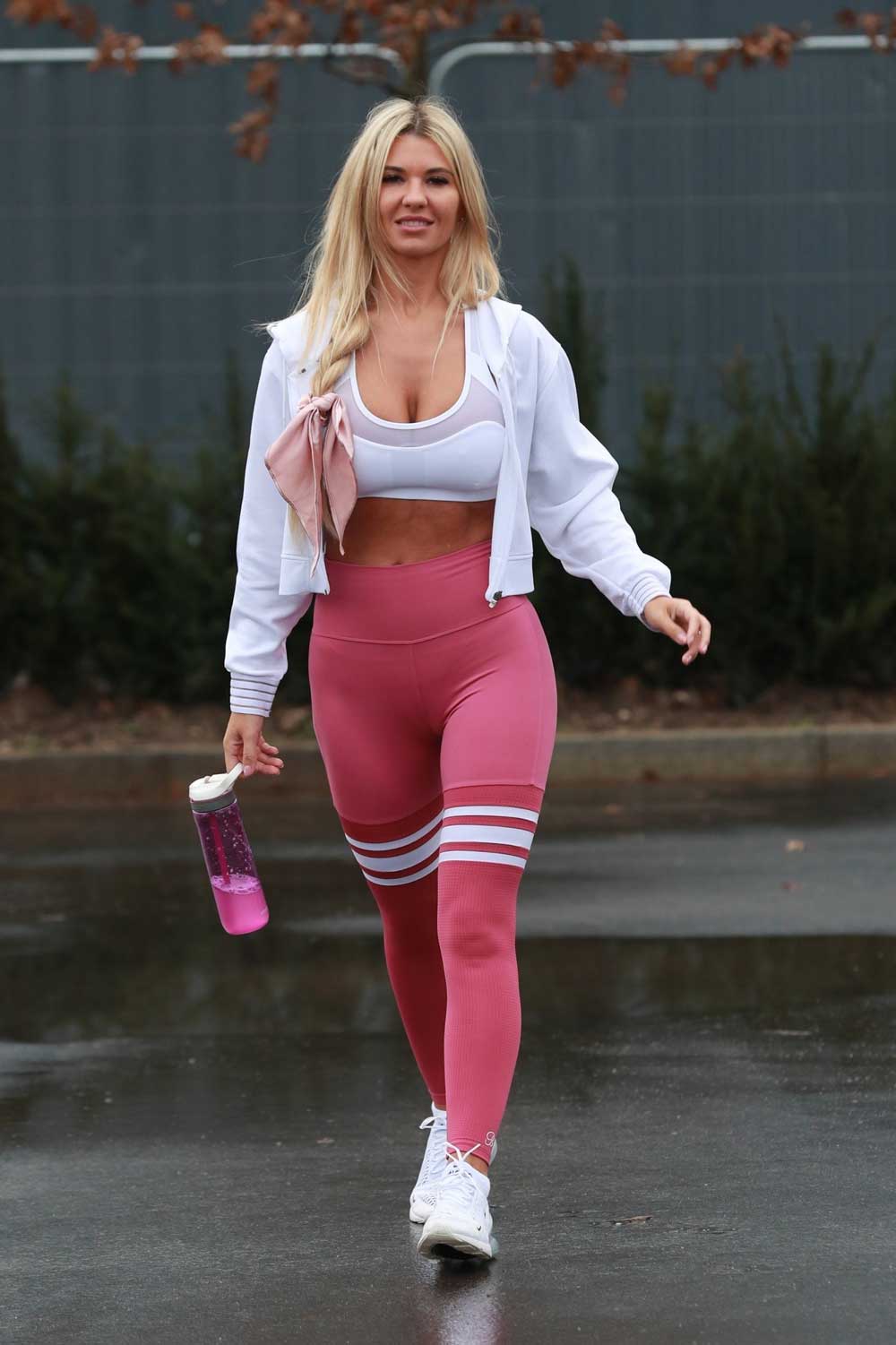 Christine Diane Teigen is an American model, television personality and author who made her modeling debut in the annual Sports Illustrated Swimsuit. She recommends legging for a perfect workout and easygoing routine. You can complete your star look with simple high waisted stripped leggings; can be paired with joggers or sandals.
9. Jennifer Anne Garner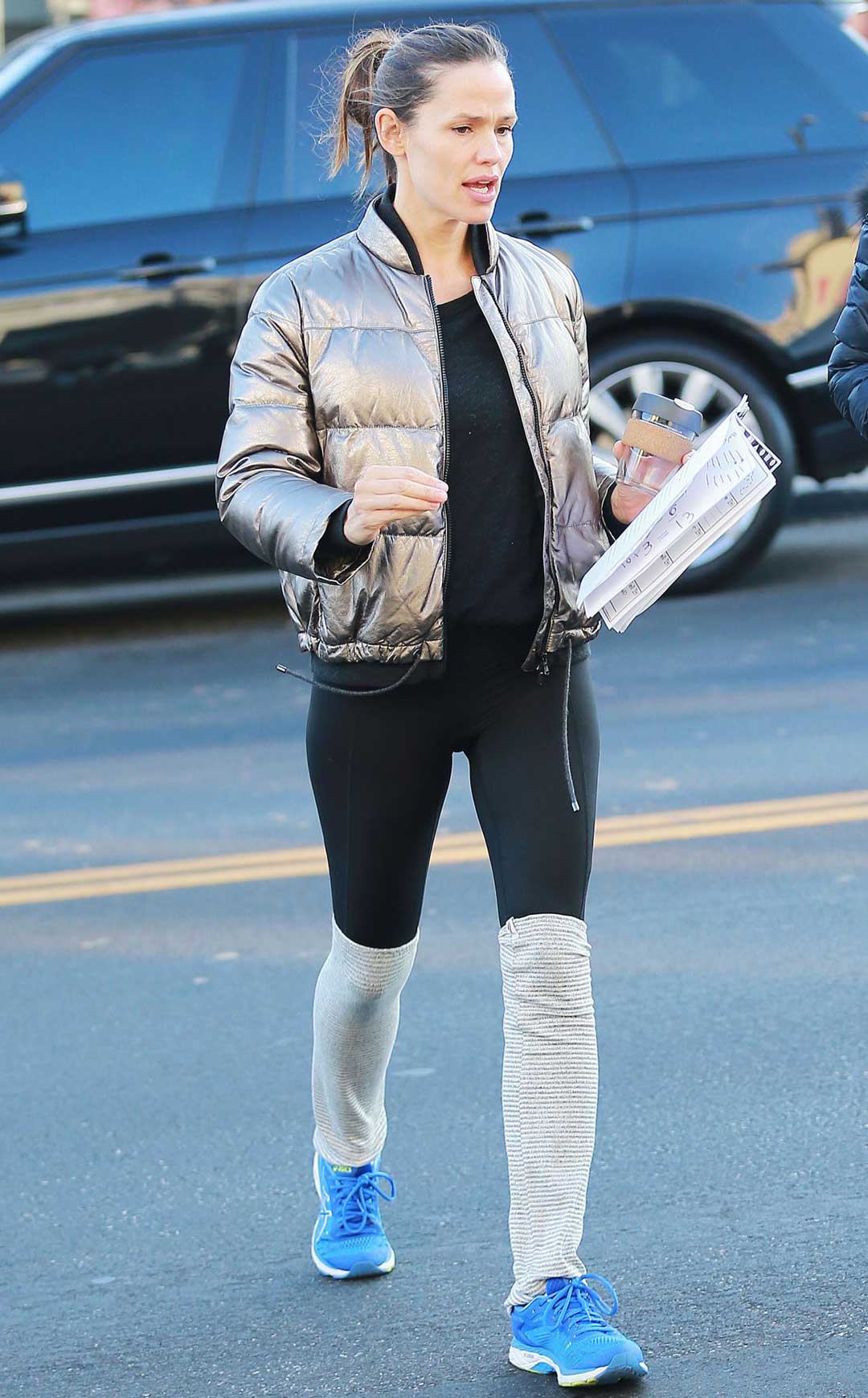 Jennifer Anne Garner is an American actress, activist and entrepreneur. Jennifer Garner in Leggings Leaving the Gym in Brentwood. Jennifer Garner made a case for camo as neutral while out and about in Los Angeles Favored by several celebrities, camo-print leggings help spice up a workout or casual weekend look. And in addition to the traditional army green, they come in a slew of colorways, ranging from muted hues to bolder ones.
Just as being truly agreeable, leggings can also be staggeringly adorable. To rock a charming outfit with leggings, simply make sure to keep your look casual and feminine.
1. Black leggings outfits
Start by settling on a pair of basic black leggings. Then, pair your leggy with a sweet dark nightgown and a comfortable knitted sweater. Finally, complete your charming legging look with the right pair of shoes. Rather than athletic tennis shoes, select a couple of obeyed lower leg booties for the ideal chic touch.
You can pair leggy with a cute outfit that can either a funky shirt or a cropped top. Celebrities use to wear dresses with leggings in their routine style.
2. Grey Leggings Outfits
For those who lean toward a lighter look, dim tights can make a brilliant alternative. Perfect for easygoing outfits, grey tights venture a casual appearance. To rock your gray leggings like a celeb, take a stab at collaborating them with pieces of clothing and shoes in different shades of dim, just as high contrast. Doing so will accomplish a savvy and snappy monochromatic appearance that is ideal for quite a long time. To finish your look, basically select styles that are ideal for both the exercise center and the road, for example, shoes, a tank top, and a puffer jacket.
3. Maroon Legging Outfits
They may not be as regular as black or gray leggings. However, maroon leggings are also worth having in your closet. Celebs like Kim Kardashian to Kendall Jenner can't stop wearing them. Their profound tone is ideal for the pre-winter and winter seasons, and they make a magnificent expansion to charming, casual outfits. To wear maroon leggings for women like a star, select a look with a slight bohemian touch. A flow tank top, larger than usual denim coat, and felt cap make the ideal options.
In 2020, it's clear that the athleisure look is here to stay — and while black leggings are a staple, they can start to feel a bit boring when worn day after day. That's where camo comes in.
4. Camo leggings
Several celebrities support Como leggings such as Jennifer Gamer (Fashion influencer), Reese Witherspoon(actress). Jennifer Lopez(model and designer). They picked up camo-printed leggy for casual and weekend look. These leggings also come in various colors and patterns like army pattern, linings, and many muted hues and broader ones.
5. Capri leggings
Capri leggings are VIP's first choice if they are going to an event where sports and some activities are performed. You can use Capri leggy with joggers for hiking or yoga, exercise just like Taylor swift, jannifer lopez. They are best for summer use. They can be air with a cropped top or t-shirt. Their fitting and waist strips are incredible.
6. Printed Leggings
Printed leggings can be tricky to wear yet never dread. Your preferred millennial VIPs have all the style motivation you have to pull off these jeans. Taylor Swift wears a printed rainbow leggings during casual routine. She pair it with cropped shoulder top. When rocking printed leggings, make sure to combine them with essential structures in strong hues or matching patterns. All things considered, don't be hesitant to make your look bold. For instance, matching navy force printed tights with a white shirt, red biker coat, and red shoes can make a popular and reciprocal appearance.
You can wear these printed funky leggings with a plain shirt or crop hoodies. It's the most trendy fashion.
7. Dressy Leggings Outfits
It is conceivable to dress leggings up and make a chic outfit. In this way, whenever you're headed toward night drinks, take a stab at trading your standard dark thin pants for a pair of leggings. To nail the look, submit a general direction to Cara Delevingne(model and actress) and attempt a vinyl pair for included sparkle and charm. At that point, accomplice your great leggings with a sheer and streaming white pull over to adjust the force and outline of your jeans. At long last, get done with a couple of executioner heels and a snazzy shoulder bag or clutch.
Learn how celebrities wear leggings in all seasons
Leggings can be wear in all seasons instead of tights many stars like Jennifer Gamer (Fashion influencer), Reese Witherspoon(actress), Gigi Hadid(international model), Selena Gomez(American Singer and model) spotted wearing legging during summer season as well as winter. They pair their leggings with cropped top sometimes. Gigi Hadid was wearing legging with pair of shoes and demium shirt top. They said legging is not only for gym and yoga you can pair it with every favouite outfit. At the point when the warmth of summer hits you, take a stab at going to leggings for style and comfort. An astounding option in contrast to pants, leggings can be ideal for accomplishing a chic warm-climate appearance.
Jennifer Lopez(model and designer), Jennifer Anne Garner, Victoria Beakham were spotted out wearing leggings with jackets and long coats during winter season. According to Jennifer Anne Garner thanks to legging they are enogh to complete my stunning look. Tights can look fabulous during the nippy season and go incredible with a range of chilly climate basics. When wearing leggings in winter, select either a thick cotton pair or a leather style. Thanks to their thin shape, leggings look awesome with chunky sweaters and turtleneck knits. To complete your look, essentially select either boots for daytime or pumps for night. stars wear wool leggings with a cool color sweater or coat and a fluffy cap it will be enough to complete your December look..
Leggings are lovely items you can pair it with countless choices and can make your own combination too. They give your booty a perfect shape and sexy leggy look. From yoga to the street style, they can fit in any event. You can buy your desire leggings from cubidupi. We have a wide range of funky, printed and all patterns and colors of leggy.